New River Gorge, West Virginia
"We Are Now America's Newest Park & Reserve!"
WELCOME TO THE NEW RIVER GORGE CABINS
Our affordable, family friendly 3 bedroom cabins are located just minutes away from the fabulous New River Gorge National Park & Preserve & the New River Gorge Bridge. Our private, fully furnished vacation cabins are ideal for honeymooners, friends & family as well as outdoor enthusiasts of all ages. Come & enjoy whitewater rafting, ride a zipline or just simply enjoy the beauty & serenity of our mountains, lakes & rivers. Each of our cabins offers fireplaces, firepits, picnic tables and private hot tubs.
National Park & Preserve.
New River Gorge National Park & Preserve is America's newest & West Virginia's first National Park. The Gorge is famous for its 53 miles of free flowing Whitewater that cuts through sandstone cliffs towering as high as 1000 feet. It boasts Class iii thru Class V rapids. The area also has more than 1,500 climbing routes, as well over 12 miles of mountain bike trails.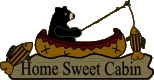 OUR COUNTRY CABINS...